Access

The CE Shop

through CBA, and SAVE!
The path to success is a choice that begins by aligning yourself with partners who care about you and your success in Commercial Real Estate.

That's why we're working with The CE Shop to bring you more options for your upcoming license renewal.

Click HERE to start earning online CE credit through CBA today!
(You will need to create a site-specific username/password for The CE Shop, not tied to your CBA account.)
Now through the CBA website, you have access to
over 25 hours of PRE-APPROVED ONLINE
Commercial Real Estate CE COURSES anytime, anywhere!
Why should you use The CE Shop?
Learn what's important to you - Relevant content written by commercial real estate professionals ensures you're learning from experts who understand the industry.

Learn at your own pace with 24/7 access to the most current and on-target courses needed for your renewal.

Create your own packages and take courses that interest you.

Save time if you're licensed in multiple states - The CE Shop offers the ability to purchase additional certificates so you can take a course once and get credit in all licensed states.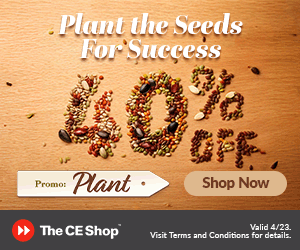 EXCLUSIVELY through CBA:
since you'll be accessing your online CE options through our website,
each month we'll give you a PROMO CODE good for discounts on registration!
(See ad at right.)
Have questions? Need help?
Call or email us today!